I've been all in my feelings since about 6:30 this morning thanks to ADELE'S new album "30". This is her fourth album that's inspired by her divorce. Her song "Easy On Me" has spent four weeks at number one on the Billboard Hot 100, and she performed three songs from the album during her CBS special, "Adele One Night Only".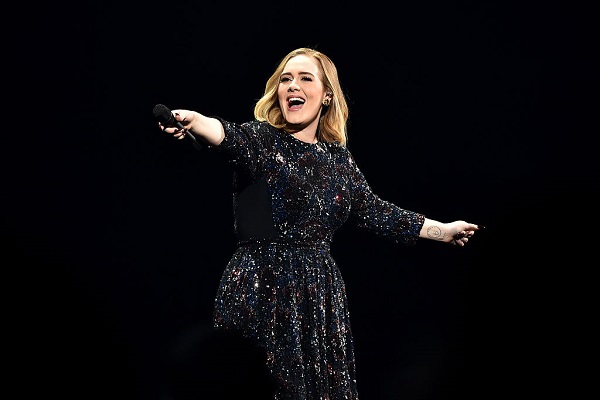 Here's what else is out today.
• "The Bridge", Sting. This is his 15th album. He wrote it during the pandemic. He has a residency in Las Vegas at Caesar's Palace in June.
• "The Algorithm", Snoop Dogg. This is his 19th album. His guests are Usher, Mary J. Blige, Wiz Khalifa, and Ty Dolla Sign. Snoop said, quote, "There's so much talent on this record, so many styles of music, it breaks the algorithm."
• "Raise the Roof", Robert Plant and Alison Krauss. This is their second collaborative album. It includes covers of The Everly Brothers, Calexico, and Allen Toussaint, along with one original song.
• "The Legendary 1979 No Nukes Concerts", Bruce Springsteen and the E Street Band. This is a live album consisting of songs from their 1979 No Nukes performances at Madison Square Garden. There are 13 tracks.
• "At My Piano", Brian Wilson from the Beach Boys. This album is a collection of Beach Boys songs you already know like "God Only Knows" and "California Girls", but performed solo on a piano.
• "The Stars Beneath My Feet (2004 – 2021)", James Blunt. This is a greatest hits album, so yes, "You're Beautiful" is on here. There are also four new songs.
• "Outside Voices", K.Flay. This EP is a follow-up to her "Inside Voices" EP that came out last June. It has five songs. She's going on tour next year.
• "The Willie Nelson Family", Willie Nelson. This is Willie's 71st studio album. It's a mix of Willie classics and cover songs. Family guests include his sister Bobbie, his sons Lukas and Micah, and his daughters Amy and Paula. Also featured are the final recordings with Paul English, Willie's longtime drummer and friend who died last year.
• "Goldmine (Deluxe)", Gabby Barrett. This deluxe edition of her debut album includes a wedding version of "The Good Ones", plus a cover of Dolly Parton's all-time classic "I Will Always Love You".
• "Where Phones Don't Work", Wade Bowen. It's a six-song EP, and it includes his single "When Love Comes Around".
• "A Cody Johnson Christmas", Cody Johnson. It features two original Christmas songs, plus his take on several holiday classics.
• "Christmas Was", Josh Abbott Band. This is their first holiday EP.
• "Christmas Is Right Here", Lori McKenna. Her debut holiday EP features five original Christmas songs, plus a cover of Paul McCartney's "Wonderful Christmastime".
• "What Do They Know", country singer Tyler Braden. He's a former Mississippi firefighter and this is his major label debut EP.
• "An Old Time Christmas (Deluxe)", Randy Travis.  This deluxe version of his 1989 Christmas album features three never-before-released songs.
— Jenn