It's hard to find Thanksgiving-themed songs to create a playlist with.  So instead, let's use songs with titles of different foods you'd have at your Thanksgiving dinner.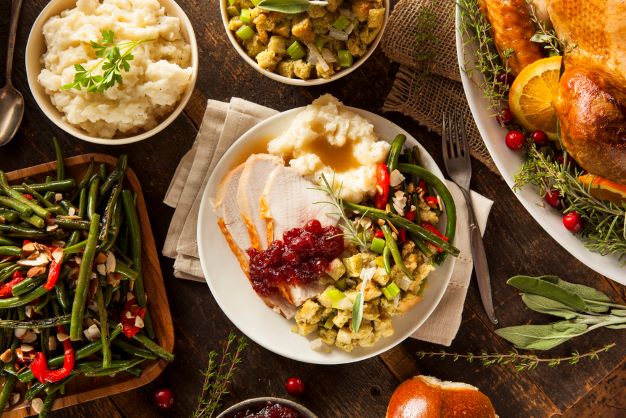 It'll add a variety to boost the few Thanksgiving songs out there, like Adam Sandler's "Thanksgiving Song" and Arlo Guthrie's "Alice's Restaurant".
Here's your Thanksgiving menu, in the form of songs:
1. "Butter", BTS . . . Because no matter what you eat, it'll surely involve butter (dairy or vegan).
2. "Turkey Mambo Mama", Pulp
3. "Mashed Potatoes U.S.A.", James Brown
4. "Biscuits 'n Gravy", Kelis
5. "Turkey Stuffing Song", Jimmy Fallon
6. "My Sweet Potato", Booker T and the MG's
7. "Vegetables", The Beach Boys
8. "Pass the Peas", The JB's
9. "Custard Pie", Led Zeppelin
10. "Cold Turkey", John Lennon
11. "Peaches", The Presidents of the United States of America
12. "Red Red Wine", UB40