If you haven't heard, ABC is reviving The Dating Game with MICHAEL BOLTON and ZOOEY DESCHANEL. They won't be dating because that would be too interesting, but they will be hosting.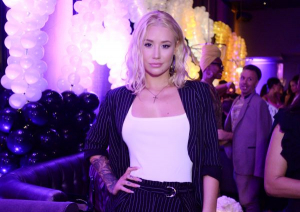 And they've announced the first few celebrities who are participating: Actor TAYE DIGGS, rapper IGGY AZALEA, and reality star HANNAH BROWN, who previously tried to find love on The Bachelor and The Bachelorette (she also won Season 28 of Dancing with the Stars with pro dancer Alan Bersten). The rest of the stars will be announced in the coming weeks.
Like the original, each episode will follow two celebrities who will each pick one suitor from a hidden panel of three singles. They'll make their choice based on how the contestants answer a variety of questions.
The twist is that the suitors don't know who the celebrities are, but they'll be given clues through Michael's "hilarious parody song performances" (which of course means none of these parody song performances will be hilarious).
The show premieres June 14th.
As a side note. . .in February it seemed like Hannah had made it official with a new boyfriend named Adam Woolard. In an interview with Entertainment Tonight, Michael Bolton seemed to tease that she actually met him on the show, but that isn't 100% clear.
— Jenn