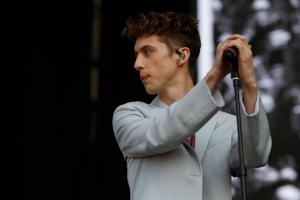 After a few months of teasing new music, Troye Sivan has finally delivered and we LOVE it! He first teased his new single, "You" back in mid April and it's been all any of his fans can talk about ever since. He's been teasing returning to music for sometime now and after the new release of "You", I hope we get a lot more.
Regard, Troye Sivan & Tate McRae's "You" again rises on the Mediabase pop radio airplay chart and officially earned a Top 30 position earlier this week.
Hoping to hear a lot more from Troye soon…and see a lot more… especially after he accidentally gave himself bangs in his most recent DIY haircut.