MACHINE GUN KELLY and SLIPKNOT . . . well, at least COREY TAYLOR . . . aren't exactly what you'd call friends.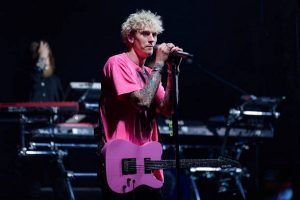 On Sunday, they both headlined Riot Fest in Chicago, but it was MGK who took a quick jab at Slipknot during his set.
He said, "Hey, you wanna know what I'm really happy that I'm not doing? Being 50 years old wearing [an effing] weird mask on [an effing] stage . . . [Effing crap]. So anyway, what's everyone's favorite candy? Reese's Pieces?"
Without a doubt, this shade is in response to comments made by Corey earlier this year. He said, "I hate all new rock for the most part. I [hate] the artists who failed in one genre and decided to go rock . . . and I think he knows who he is."
BUT WAIT THERE'S MORE.
Yesterday MGK tweeted, "Corey did a verse for a song . . . it was [effing] terrible, so I didn't use it. He got mad about it, and talked [crap] to a magazine . . . y'all's stories are all off . . . just admit he's bitter."
Corey then tweeted, "I don't like people airing private [crap] like a child. So this is all I'll say . . . I didn't do the track because I don't like when people try to 'write' for me. I said NO to THEM."
Then he included screenshots of e-mails from January with TRAVIS BARKER as proof.
This is all so incredibly dumb and pointless, and yet here I sit with my popcorn.
— Jenn