Here's what drops today!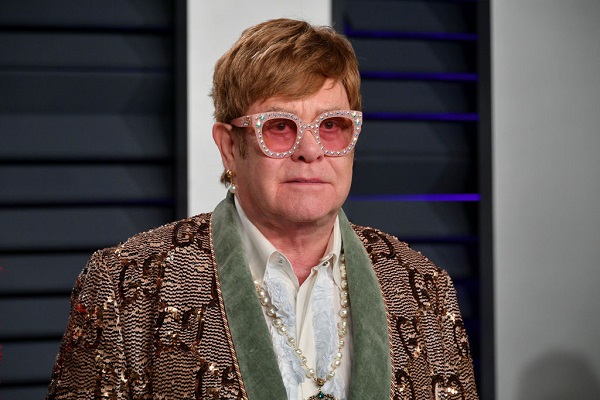 • "The Lockdown Sessions", Elton John. This is a collaborative album. Each of the 16 songs has a guest or two. To name a few, there's Dua Lipa, Miley Cyrus, Stevie Wonder, and Stevie Nicks. As the album title suggests, Elton recorded it during lockdown by meeting with his guests through Zoom or separated in-person by glass.
• "Future Past", Duran Duran. This is their 15th album. It also marks 40 years since their debut album. Graham Coxon from Blur plays guitar on majority of the album.
• "Blue Banisters", Lana Del Rey. This is her eighth album. Her dogs Tex and Mex are on the album cover. Last month she announced she was deactivating her social media accounts and it looks like she's still sticking with it.
• "Folarin 2", Wale. This is a follow-up to his 2012 mixtape, "Folarin". His guests are J. Cole, Chris Brown, Maxo Kream, and Yella Beezy.
• "My Morning Jacket", My Morning Jacket. This is their ninth album. They are going on a small tour starting next week. Then in March, they're putting on their own festival called One Big Holiday in Mexico with Brittany Howard, Lord Huron, and Black Pumas.
• "Culture Jam, Volume 1", NBA star Kawhi Leonard. It "celebrates the unity of basketball and hip-hop," and features guests like NBA YoungBoy, Lil Uzi Vert, Ty Dolla $ign, Gunna, and Wale.
• "Surrender", Rufus Du Sol. This is their fourth album. Their guest is soul artist Curtis Harding.
• "B-Sides & Rarities Part 2", Nick Cave and the Bad Seeds. This album has rare and unreleased tracks from 1988 to 2020.
• "Sorry Ma, Forgot to Take Out the Trash: Deluxe Edition", The Replacements. To celebrate their 40th anniversary, this album has been remastered. It has over 100 tracks that include unreleased demos.
• "Hell of a Holiday", Pistol Annies. This is their first holiday album. It's mostly originals, but it does include classics like "Sleigh Ride", "Auld Lang Syne", and Merle Haggard's "If We Make It Through December".
• "What a Song Can Do", Lady A. This is their eighth album. It's the expanded version of "What a Song Can Do (Chapter One)", which came out in June.
• "Sing The Christmas Classics", Brett Young & Friends. The "Friends" includes Colbie Caillat on "White Christmas", Darius Rucker on "Rockin' Around the Christmas Tree", and Maddie & Tae on "Let It Snow! Let It Snow! Let It Snow!".
• "Wild Blue Complete", Hunter Hayes. This is his fifth album. It's the follow-up to 2019's "Wild Blue (Part One)".
• "Mr. Christmas", Brett Eldredge. This is his second Christmas album. His first one, "Glow", came out in 2016. Both albums will be featured prominently on his Glow Live holiday tour, which kicks off November 13th in Las Vegas.
• "Breaking Point", Jackson + Sellers. They are Jade Jackson and Aubrie Sellers, and this is their debut album. Aubrey is the daughter of Lee Ann Womack.
• "Son of A", Dillon Carmichael. This is his second full-length album. The Cadillac Three join him on "Pickin' Up Girls".